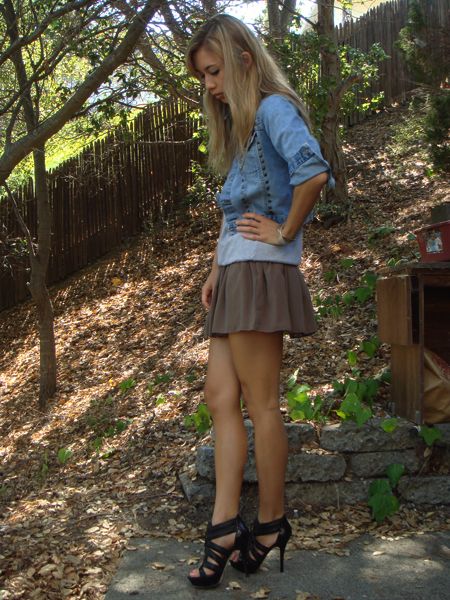 I am of the probably very small party that thinks that Bebe comes out with some pretty alright shoes once in a while. You just have to look past the rhinestone encrusted "athletic wear". I originally wanted to go to check
this pair
out but once I saw these on the busty mannequin, I knew I needed them. Once I handled them, I fell in love with the aggressive textured leather and S&M zippers. Mmm. Obviously, I wish the heel was chunkier, but I'll try to deal with it. Lulu argued that the stripper heel kind of ruined them, but, well, I know when I want something, and I've never gotten the '04 Balenciagas that they're a knockoff of off my mind. It's inexplicably satisfying to zip the foot into a sandal. I seem to be falling for zippers as hard as I did fringe, between the Nightingale, the 'stute heels, and this (selling out by the second)
dress
I ordered from Topshop this morning.
Oh and this jacket has kind of a funny story - I TOTALLY owned it when I was in high school, it was one of my treasured Urban Outfitters items (remember that company Bulldog? it's by them). I, of course, long since lost track of it but I found the same one in a thrift store last month. Reunited!
Jacket, secondhand. Skirt, sweatshirt top, and necklaces, Forever 21. Heels, Bebe.