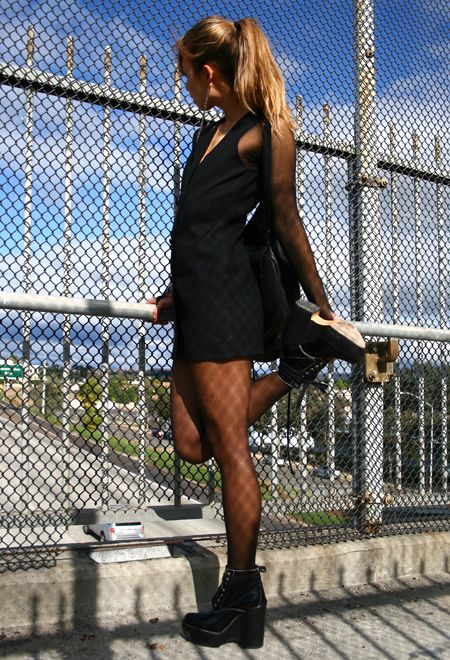 (vintage blazer dress, Target sheer tights, Chloe boots, Alexander Wang backpack, Elizabeth and James ring, Forever 21 metal mesh earrings)

Colin had been wanting to use this freeway overpass for a little while and yesterday after we tried out a new sandwich place it was right in our path. This was one of those outfits that ended up being totally ideal for the temperature..love when that happens.
Sooo before you think I went bodystocking shopping, let me explain that the sleeves are cutoff tights with a hole cut through the center. Pretty fun to wriggle into.

What I purchased over the course of the day:
blueberry Trident
a glass salad bowl
cream lace leggings

a turtleneck bandage dress
Evian
two Doubleshots

Starbucks signature hot chocolate (RECOMMEND) and vanilla rooibos tea



ETA a little more explanation - take a pair of tights (I want to try a crocheted pair next...) and cut out the crotch, this will be the hole that you put your head through. Leave the waistband intact so that the 'shirt' will stay in place, cut the sleeves to the appropriate length, with or without thumb holes..and you're done ;)

Oh and also American Apparel is coming out with a mesh minidress soon...should be good.