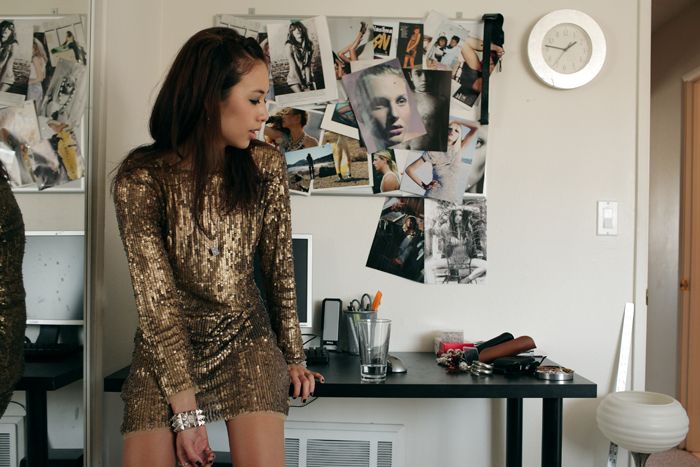 Photo by Christophe Wu

Since a fair number of people commented on the gold dress from the previous post - here's a better shot of it in the form of an outtake from a shoot I did with Elle Japan last summer during my brief dark brunette phase (I actually want to go back to a darker color eventually but am done screwing with my hair..too traumatizing when things go wrong). Randomly enough, this thing is by Arden B....I think I've set foot in that store twice in my life? I'm pretty sure it's the embellished denim and colorful faux fur that scare me away. So I picked it up at a flea market instead.

I'd say this is an accurate representation of the state of my desk area at all times - tall glass of water with an inch left untouched (I never drink that last inch), stack of Ray-ban cases, odd pieces of jewelry, weird pointless object on the floor (in this case an unplugged lamp), discarded Balenciaga strap, and multiple pairs of scissors (can't sew so I have to love them). Maybe add in my Macbook blaring music on the right since the pictured speakers broke last week and my Alexander Wang backpack hanging dismally from a tack below the clock. I've really spruced the place up in the last six months huh. The photos on my inspiration board probably change weekly..whenever I decide to decimate my latest stack of magazines.

Oh and also from the previous post - the mesh slipdress is by Madame Hawke, from New Zealand. And in the black and white photo I'm wearing a long skirt, not sweats haha. I'll save that post for a brave moment and do it right with Havaianas and a cut up tshirt.