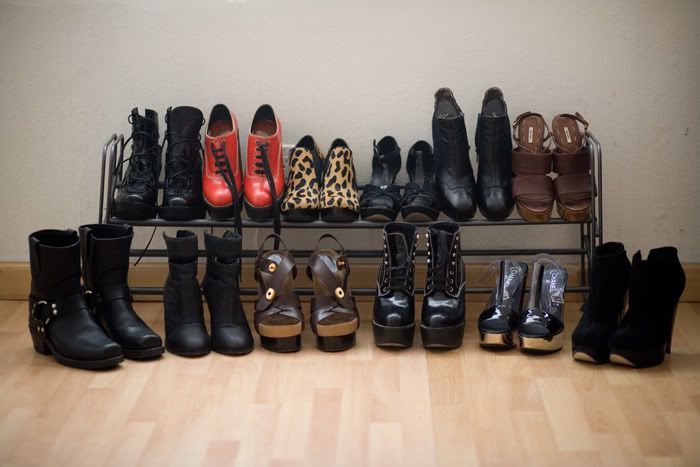 I get a lot of questions about my bra choices..I lean towards no wire, triangle silhouettes, bondage-y elastic, and thin straps. From left to right: Forever 21, H&M, Lux, and Alexander Wang. I'm dreaming about this one by Savant.

Chocolate mint tea and my favorite vintage necklace.
Thrifted shoes..the only way I can make sense of them is to look at them as trimmed down cowboy boots. I will love them more once they stop giving me blisters.
Keeping jewelry on the kitchen counter makes it easy to accessorize on the way out the door. Though your boyfriend might not appreciate the perpetual tiny bit of extra clutter.
My three favorite OPI nail polishes - Got the Blues for Red, Light My Sapphire, and My Private Jet. This hasn't changed in the past two years.
This Forever 21 shorts romper I bought last spring is just so pretty.

Current shoe rack.

The magazines I keep by the couch. My favorites right now are Russh, Jalouse, and Vivi.

More things to grab on the way out.